Welcome to our super fun and complete Knife Seminar.
Saturday 02.04.2022 from 10.00 to 14.00 hours at Art Zenter Academy, Kali Majapahit workshop with David Muñoz González, specialized in KNIFE with the next attractive topics:
* Different types of knives
* Manipulation of real knife vs. training knife
* Knife throw* Reactions & knife blocks with empty hands and other defensive stuff like a stick, belt, scarf, handbag, back bag, shoes, hoody…
* Possible knife disarms with our opponent's body or with our body* Playing knife – knife sparring
* Double knife vs. Single knife/double knife
* Short intro of balisong or the butterfly knife.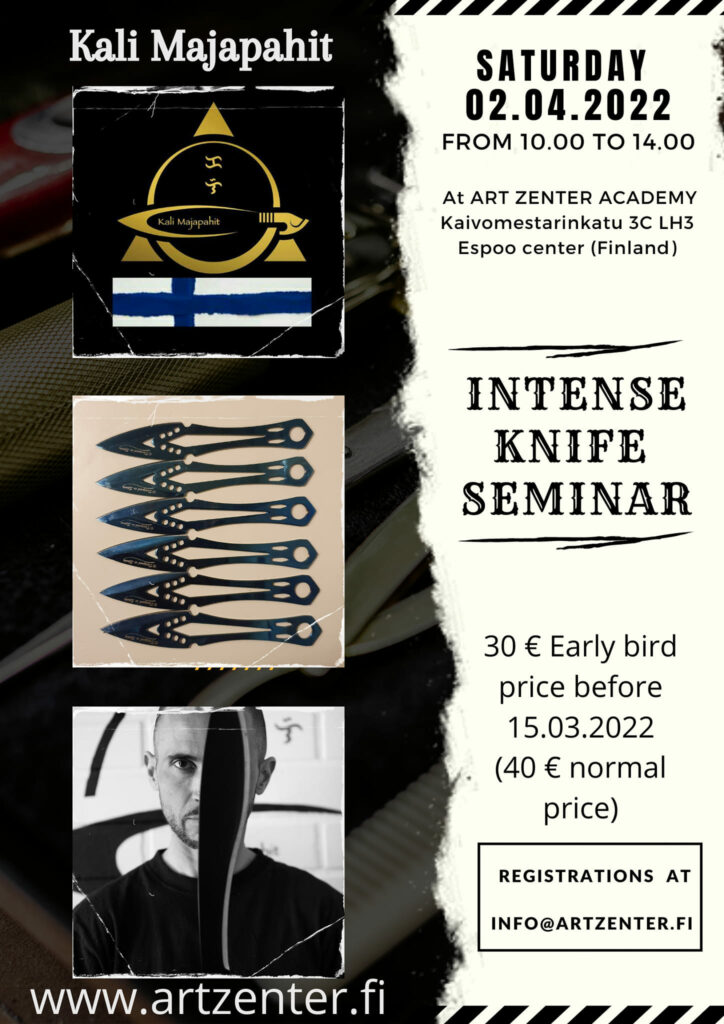 Bring your sports clothes, your own water bottle, quick snacks/nuts/fruits for a small break, and, if possible, a back bag, scarf, and normal pants belt.
Be READY for a SUPER SEMINAR you will not forget!
30 € Early bird price for registrations before 15.03.2022
40 € Normal price for registrations after 15.03.2022.
For more info and registrations contact at info@artzenter.fi or HERE.
Facebook event at:
Kaivomestarinkatu 3C LH3, Espoo center