Check HERE our updated AZA Schedule Spring 2024 (Classes starting from Monday 8.01.2024)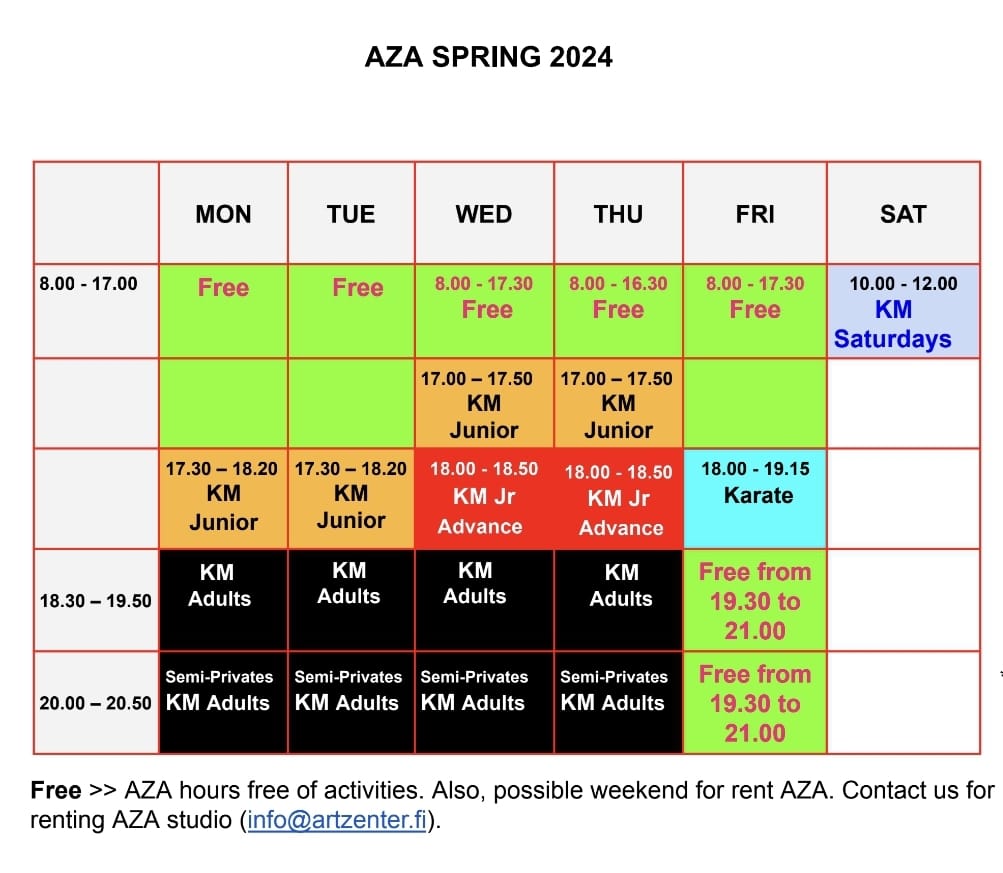 Check our Spring 2024 AZA Schedule with the HOP-ON HOP-OFF concept for KM Adults classes (Classes starting from 8.01.2024)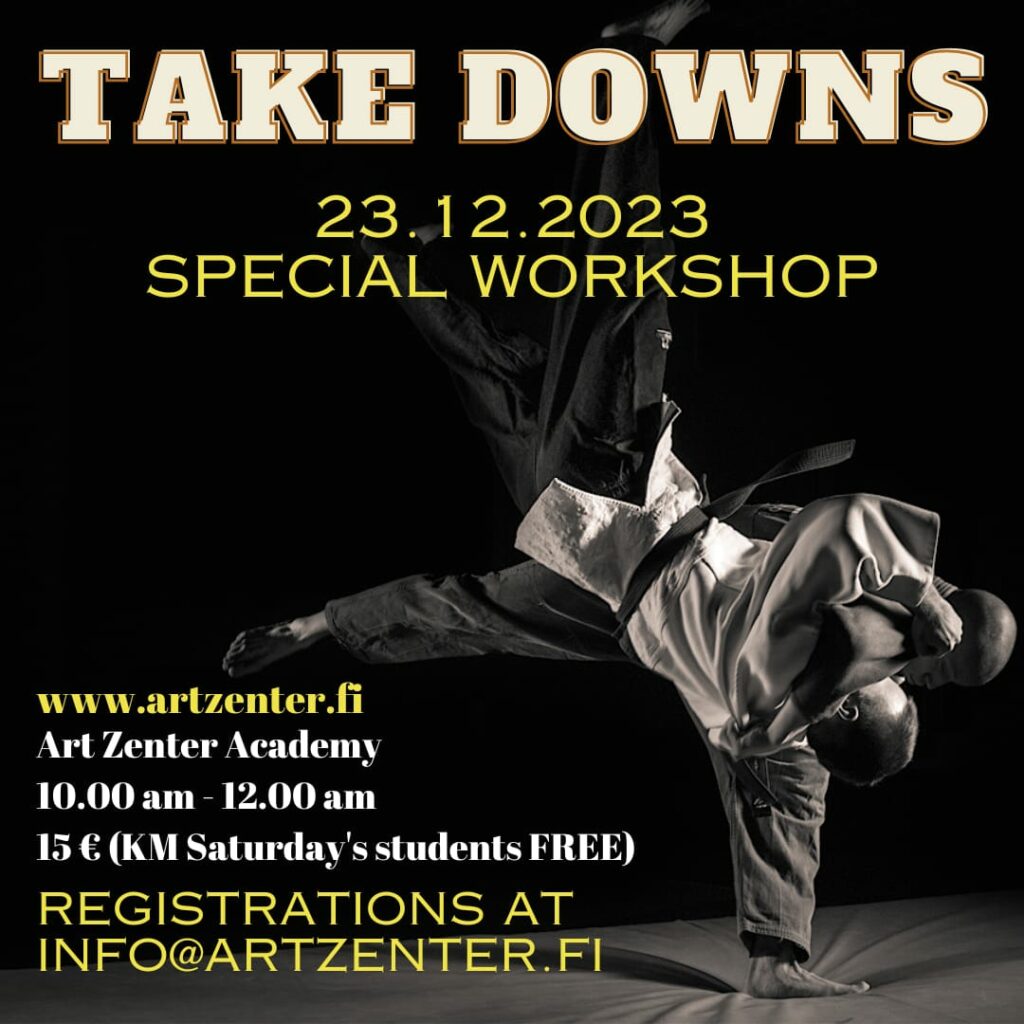 Welcome to our last KM training this fantastic year 2023!
We will explore different fun ways to take down your opponent with Filipino Martial Arts' main influence.
No needed background since we will provide material according to the different levels.
Price 15 € with registration via email at info@artzenter.fi or HERE.
Training material: sports clothes or preferably a full kimono.
See you on the mat!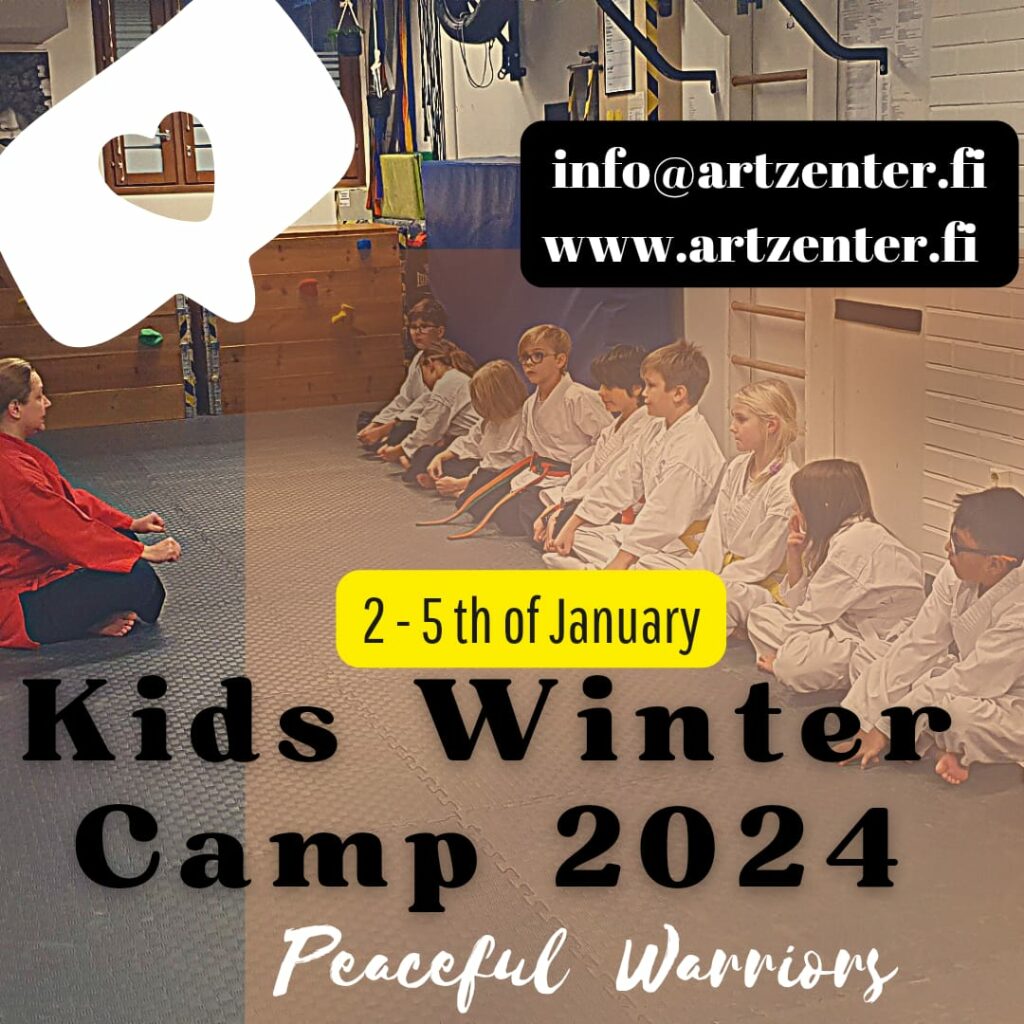 KIDS Peaceful Warriors Winter Camp 2024
REGISTRATION NOW OPEN ❗
TIME TO SAY ENOUGH TO THE SCREENS DURING CHRISTMAS TIME AND GET BACK HEALTHY AND DYNAMIC KIDS THROUGH THE MOVEMENTWelcome to our KIDS PEACEFUL WARRIORS WINTER CAMP edition 2024!
Book your SPOT before we get FULL Camp dates: 2nd-5th of January 2024
Time window: from 9.00 to 15.00 pm.
Age recommended from 7 years old. The goal of this Camp will be to REDUCE the time in front of the screens during the Christmas holidays and get back active and healthy kids with tons of fun practicing during 4 days of martial arts movements from Kali Majapahit, using different training materials and JEDI LIGHTSABERS, reinforcing and improving kids´ coordination, speed, self-control, confidence, balance, and much more with other activities, and games indoors, and outdoors. Do your REGISTRATION before the end of the year 2023 and GET YOUR EARLY BIRD PRICE of 199 € (Normal price 249 €).
The offer price includes the camp activities indoors AZA and food (light breakfast, lunch, and light snack afternoon). The 50% discount for family members does not apply to the early bird price offer. Invoices will be sent via email with a 1-week window to pay them (invoices not paid in the due time will be sent again with the normal camp price of 249 €, losing the benefits of the early bird price offer).
Welcome!
For MORE INFO & REGISTRATIONS contact us at info@artzenter.fi or directly at the link below:
https://artzenter.fi/contact-us/
https://artzenter.fi/…/2023/08/PW-WC24-flyer-no-price.png
More info in our Facebook event: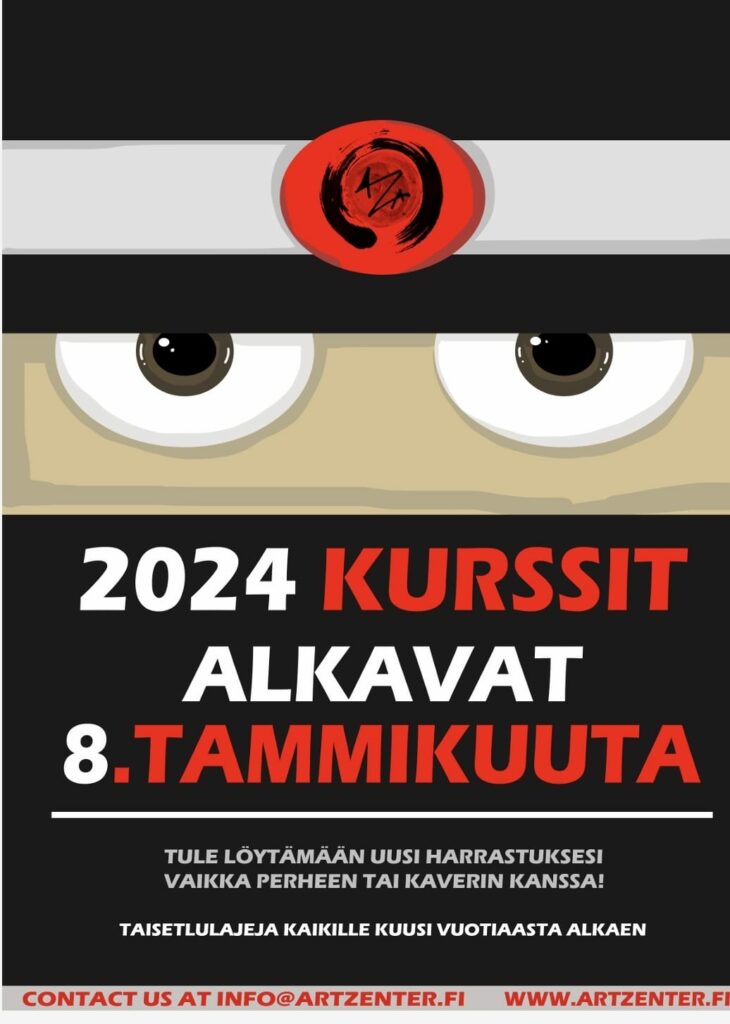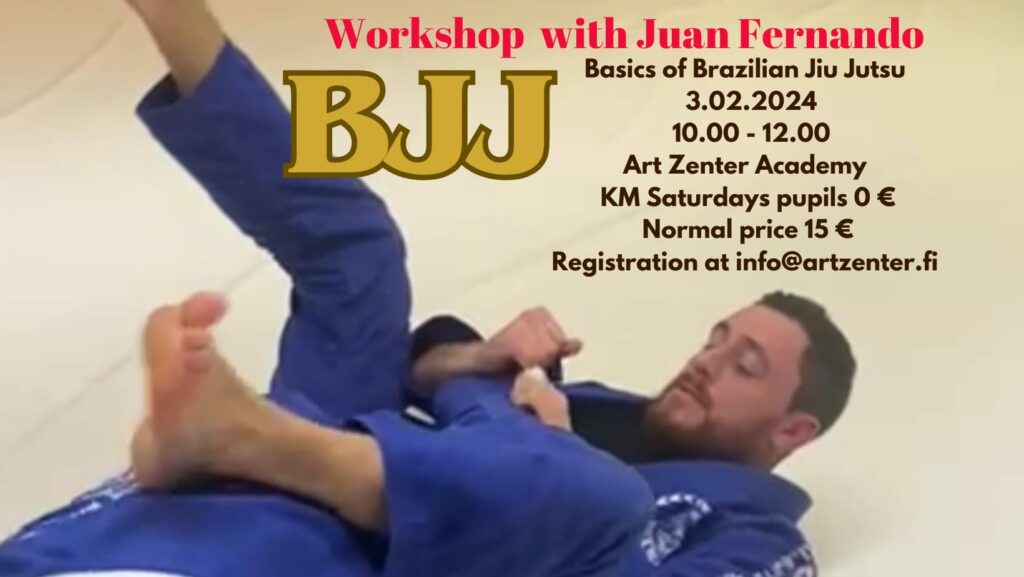 Welcome to our next Brazilian Ju-Jitsu workshop on Saturday 3.02.2024 from 10.00 to 12.00 at Art Zenter Academy.
REGISTRATIONS at info@artzenter.fi or HERE.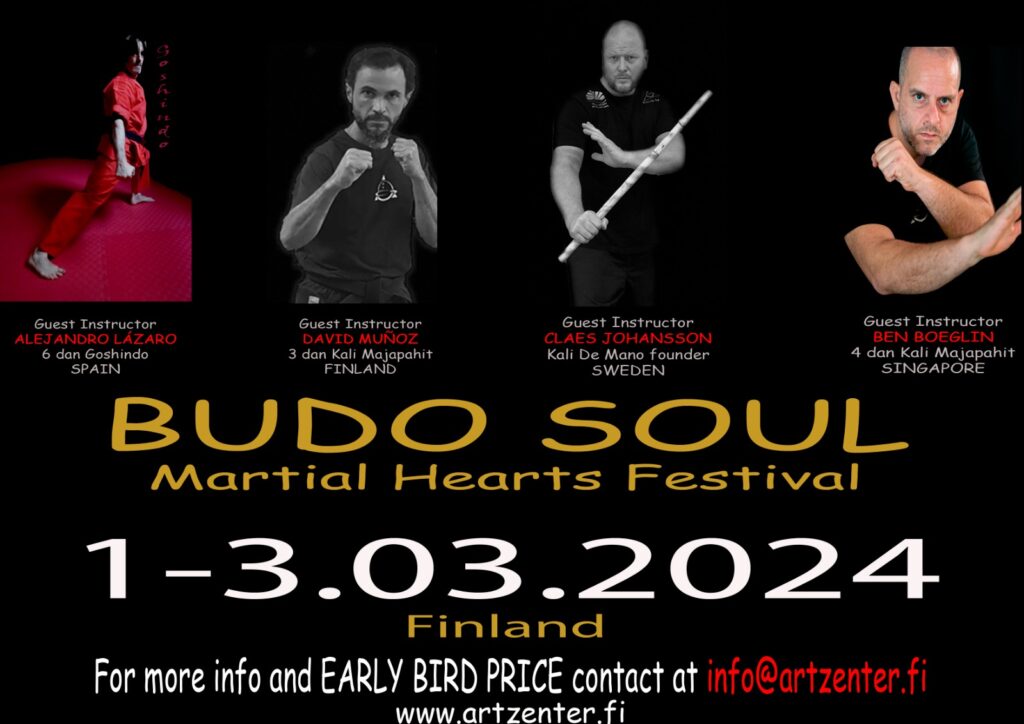 Welcome to our BUDO SOUL FINLAND 2024
Martial Hearts Festival where Filipino and Japanese Martial Arts will be represented by different TOP International Instructors.
Follow our Facebook event with more info at:
Contact us now for more information about the event and the EARLY BIRD PRICE registration at info@artzenter.fi
It is gonna be an EPIC weekend ❗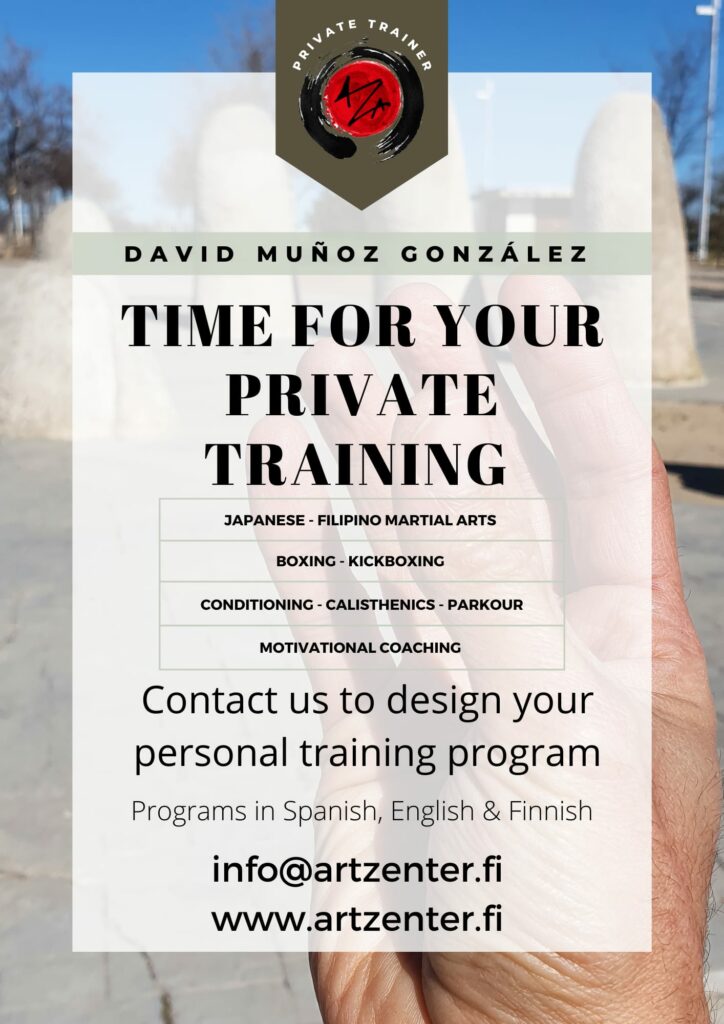 Check HERE our Private Training prices or CONTACT US to design your specific program and flexible budget.