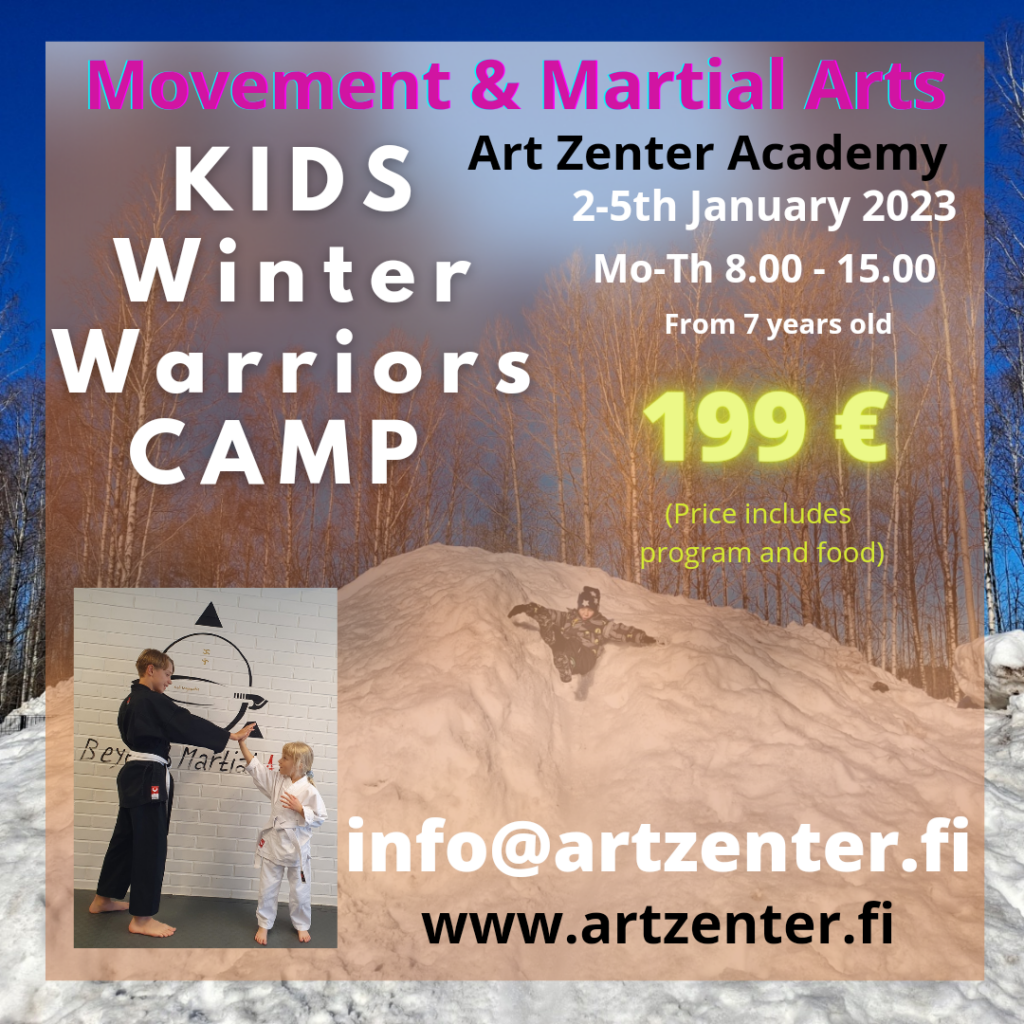 !!CHECK THE ENGLISH VERSION BELOW!!
Tervetuloa SUPER KIDS Winter Warriors CAMP 2023 -leirillemme!
Etkö vielä tiedä mitä tehdä lasten kanssa vuoden 2023 ensimmäisinä päivinä kun koulut ovat vielä kiinni ja joudut työskentelemään toimistossasi tai kotona keskittyen…
Meillä on täydellinen ratkaisu siihen!
2-5. tammikuuta 2023
Klo 8.00 – 15.00
Art Zenter Academyssa (kaivomestarinkatu 3C LH3, Espoon keskusta)
Ikäsuositus lapsille 7-vuotiaasta alkaen
Ohjelma:
HAUSKA yhdistelmä liikuntaa, pelejä ja kamppailulajeja, joissa lapset vahvistavat luovuuttaan, koordinaatiokykyään, itseluottamustaan, sosiaalisia taitojaan ja paljon muuta. KAIKKI TÄMÄ ILOISESSA JA YSTÄVÄLLISESSÄ YMPÄRISTÖSSÄ!
Kielet: englanti, suomi, espanja
Normaalihinta 199 €
Sisarukset 50 % alennuksella (alennus yhdestä sisaruksesta)
HINTA SISÄLTÄÄ toimintaohjelman AZA:ssa 4 päivän ajan klo 8-15 ja ruoat (aamiainen ja lounas).
ILMOITA LAPSESI osoitteessa info@artzenter.fi tai TÄSSÄ.
AZA-tiimilmme odottaa kuulevansa teistä!
Ihanaa päivää!
AZA-tiimi
www.artzenter.fi
info@artzenter.fi
********************** ENGLISH VERSION **********************
Welcome to our SUPER KIDS Winter Warriors CAMP 2023!
If you do not know yet what to do with your kids during the very first days of 2023, when schools are still closed and you have to work at your office or with high focus at home…then we are your perfect solution! 🙂
From 2nd to 5th of January 2023
From 8.00 am to 15.00 pm
At Art Zenter Academy (kaivomestarinkatu 3C LH3, Espoo center)
Recommended kids age from 7 years old
Program:
A FUN fusion of movement, games, and martial arts where kids will reinforce their creativity, coordination, self-confidence, social skills, and much more, and ALL IN A CHILD HAPPY AND FRIENDLY SPACE.
Languages: English, Finnish, Spanish
The normal price is 199 €
SIBLINGS 50 % DISCOUNT (discount on one of the siblings)
PRICE INCLUDES the activities program indoor AZA for 4 days from 8 to 15 pm and food (breakfast and lunch).
ENROL NOW YOUR KIDS at info@artzenter.fi or HERE.
From AZA team we are looking forward to hearing from you 🙂
Have a wonderful day!
AZA team
www.artzenter.fi
info@artzenter.fi