SUOMI VERSIO (ENGLISH VERSION BELOW)
Oletko koskaan ajatellut aloittaa harrastamaan itsepuolustuslajia?
Nyt on täydellinen hetki aloittaa filippiiniläinen itsepuolustuslaji KALI MAJAPAHIT!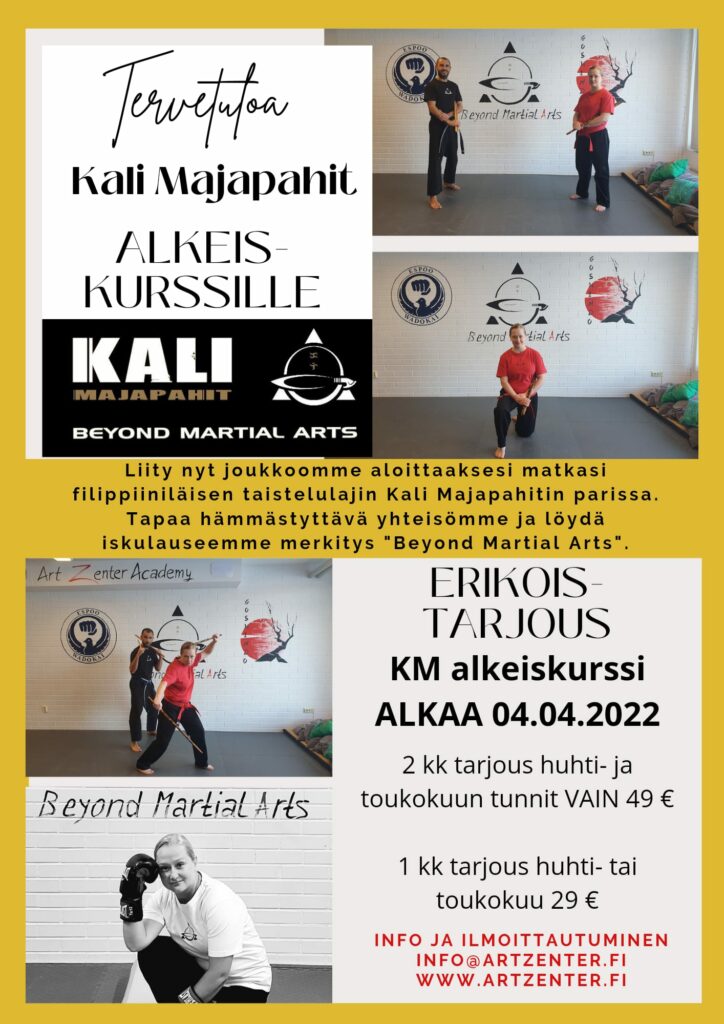 Alkeiskurssi alkaen 04.04.2022 joka maanantai:
-klo 19.00-19.50 ja/tai- klo 20.00-20.50Art Zenter Academyssa (Kaivomestarinkatu 3C LH, Espoon keskus)

*Kuntoilua, koordinaatiota, parkouria ja tietysti KALI!
*Tyhjin käsin, kepit, nyrkkeilyä ja paljon muuta!

Paikkoja rajoitetusti! Varaa paikkasi heti!

Nyt ERIKOISTARJOUSHINTA VAIN huhti-toukokuussa 2022:
– Ilmainen jäsenmaksu vuonna 2022
– 2 kuukauden hinta (huhti-toukokuu) VAIN 49 € (1 tunti viikossa)
– 1 kuukauden hinta (huhti-toukokuu) VAIN 29 € (1 tunti viikossa)*Kysy meiltä peruskurssin erikoishinta 2 tunnin treeneille maanantaisin!

HUOM! Hinnat voimassa vain uusille jäsenille.

Ota selvää mitä sloganimme "Beyond Martial Arts" tarkoittaa ja liity meihin!
Tervetuloa AZA:aan!
Lisätietoa ja ILMOITTAUTUMINEN osoitteessa info@artzenter.fi tai TÄÄLLÄ.
Facebook tapahtuma:

ENGLISH VERSION:
Did you anytime think about START MARTIAL ARTS?
NOW is the perfect opportunity to START FILIPINO MARTIAL ARTS WITH KALI MAJAPAHIT.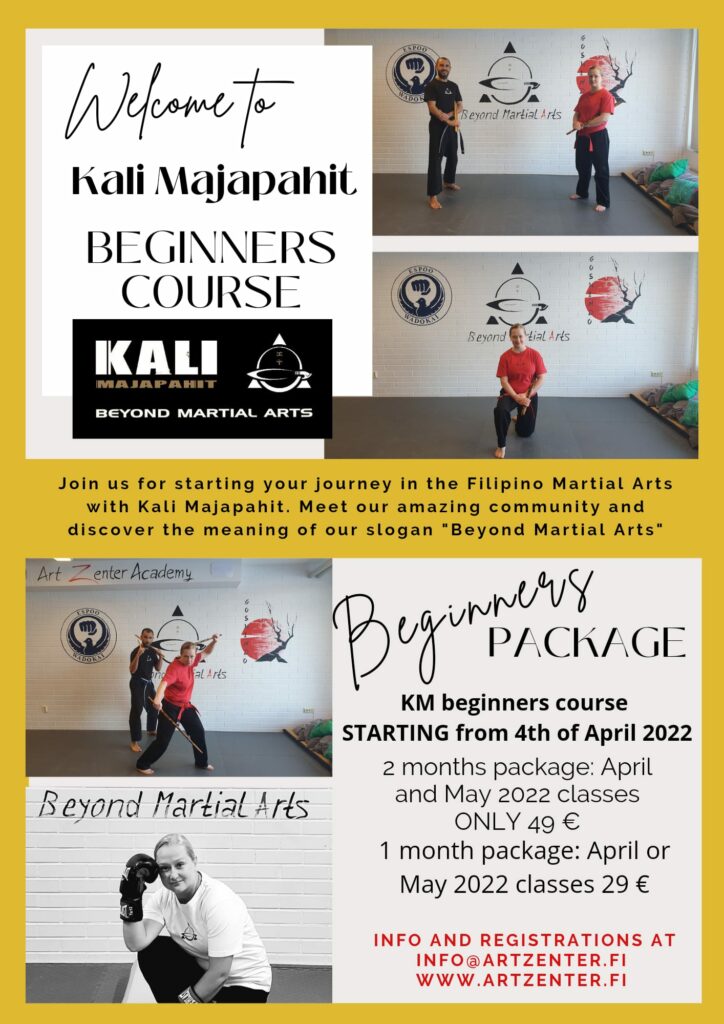 BASIC COURSE STARTING FROM 04.04.2022 for everyone over 13 years old, every Monday from 19.00 to 19.50 and/or from 20.00 to 20.50 at Art Zenter Academy (kaivomestarinkatu 3C LH, Espoo center).
Conditioning, coordination, parkour, and of course Kali! with empty hands, stick work, boxing, and much more!
LIMITED SPOTS!
SPECIAL OFFER PRICE only during April and May 2022:
* FREE MEMBERSHIP FEE during 2022
* 2 MONTHS PACKAGE (April and May) ONLY 49 € (1-hour training per week)
* 1 MONTH (April or May 2022) ONLY 29 €
***Note: prices only valid for new members.
***Check with us the special price for 2 hours of training per week basic course on Mondays.

Time for ACTION!
Time for FUN!
Time to discover what means our slogan BEYOND MARTIAL ARTS!
Welcome to AZA!
Welcome to the movement!
More INFO and REGISTRATIONS at info@artzenter.fi or HERE.
Facebook event: