IMPORTANT NEWS! Due to the latest Finnish government restrictions & recommendations, AZA will be closed until 24.1.2022 (included). We will keep you updated at www.artzenter.fi
Our apologies and thanks for your understanding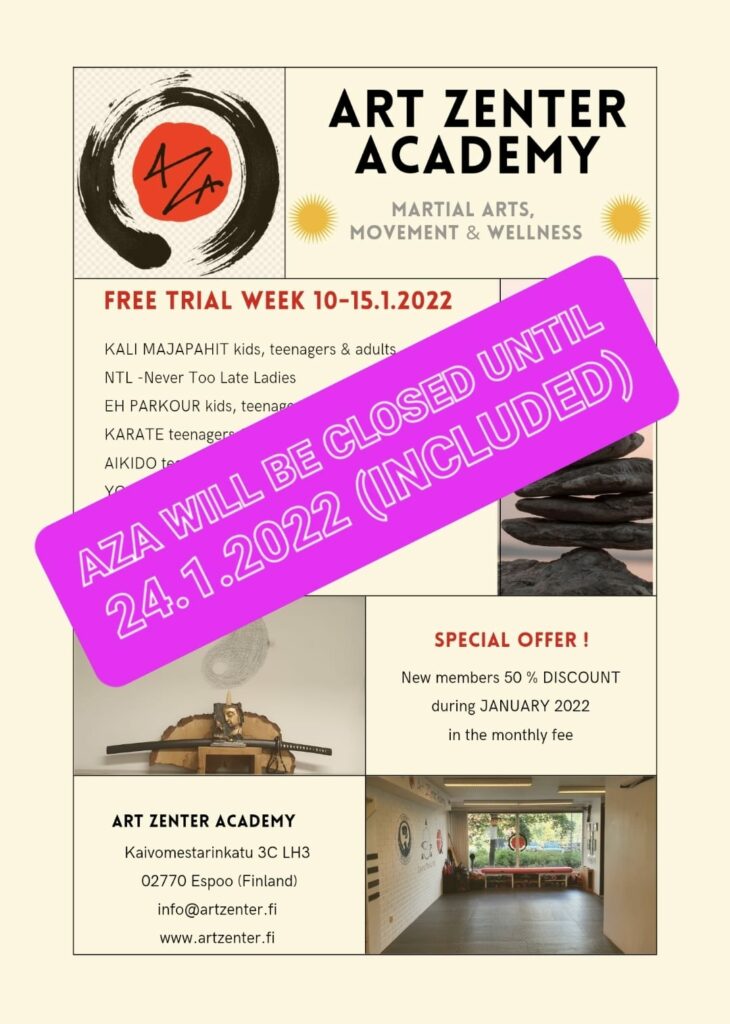 Among our Martial Arts, you can try, for different ages and levels, traditional styles from Japan like Karate and/or Aikido, or/and different styles like Kali Majapahit belonging to the FMA (Filipino Martial Arts).
If you are a WOMAN and you decided that 2022 is your year, that it is time to move! and you think that NEVER IS TOO LATE FOR BEING HAPPY…then we have the perfect activity for you called NTL Ladies! Check HERE the program of Never Too Late Ladies 2022, and book your free trial class now. You will not regret it!
Check HERE our FUN AND FULL OF ACTION! Elämän Hippa Parkour classes for different ages. EH Parkour 1 from 7 until 10 years old and EH Parkour 2 for parents, adults, and juniors from 11 years old.
If 2022 is YOUR year to enjoy, calm down, and know yourself better, then we recommend our YOGA ONLINE classes. Book your free trial class of Yoga online HERE (minimum 4 people to create a class).