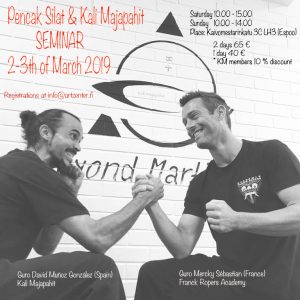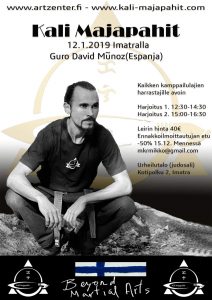 Welcome to KM Imatra WORKSHOP on 12.1.2019. Discover the Filipino Martial Arts ( FMA ) thru Kali Majapahit. During the workshop we will explore movement and techniques with empty hands against knife and/or stick attacks searching to develop your reflexes and coordination to avoid or reduce as maximum the freezing moment when an attack occurs. Join us and enjoy learning martial arts in a safe and positive atmosphere.
Book your spot at mkrmikko@gmail.com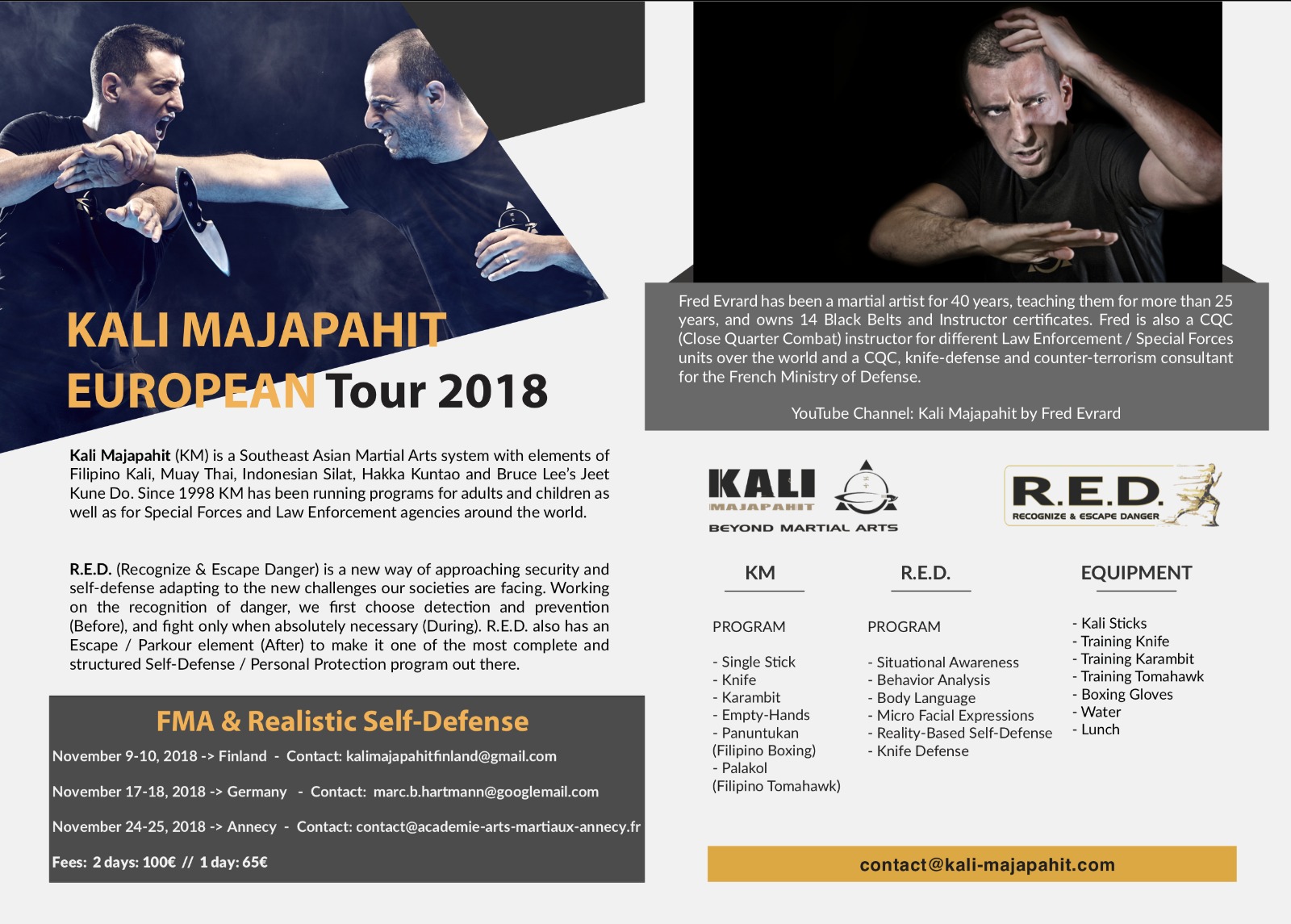 Welcome to Kali Majapahit Seminar with the founder of the style, Guro FRED EVRARD.
Do not miss this unique opportunity to know and practice FMA (Filipino Martial Arts) with one of the highest representative martial artist at the moment in this world, Guro Fred Evrard. Go beyond martial arts in this Seminar discovering a lifestyle that will improve your quality life through the movement with personal developments, nutritional and health tips.
Seminar valid for all levels and all kind of backgrounds in sports and/or martial arts.
Time to move
Time to discover your life meaning thru the movement…
More info and registrations at:
info@artzenter.fi
kalimajapahitfinland@gmail.com
www.artzenter.fi
www.kali-majapahit.com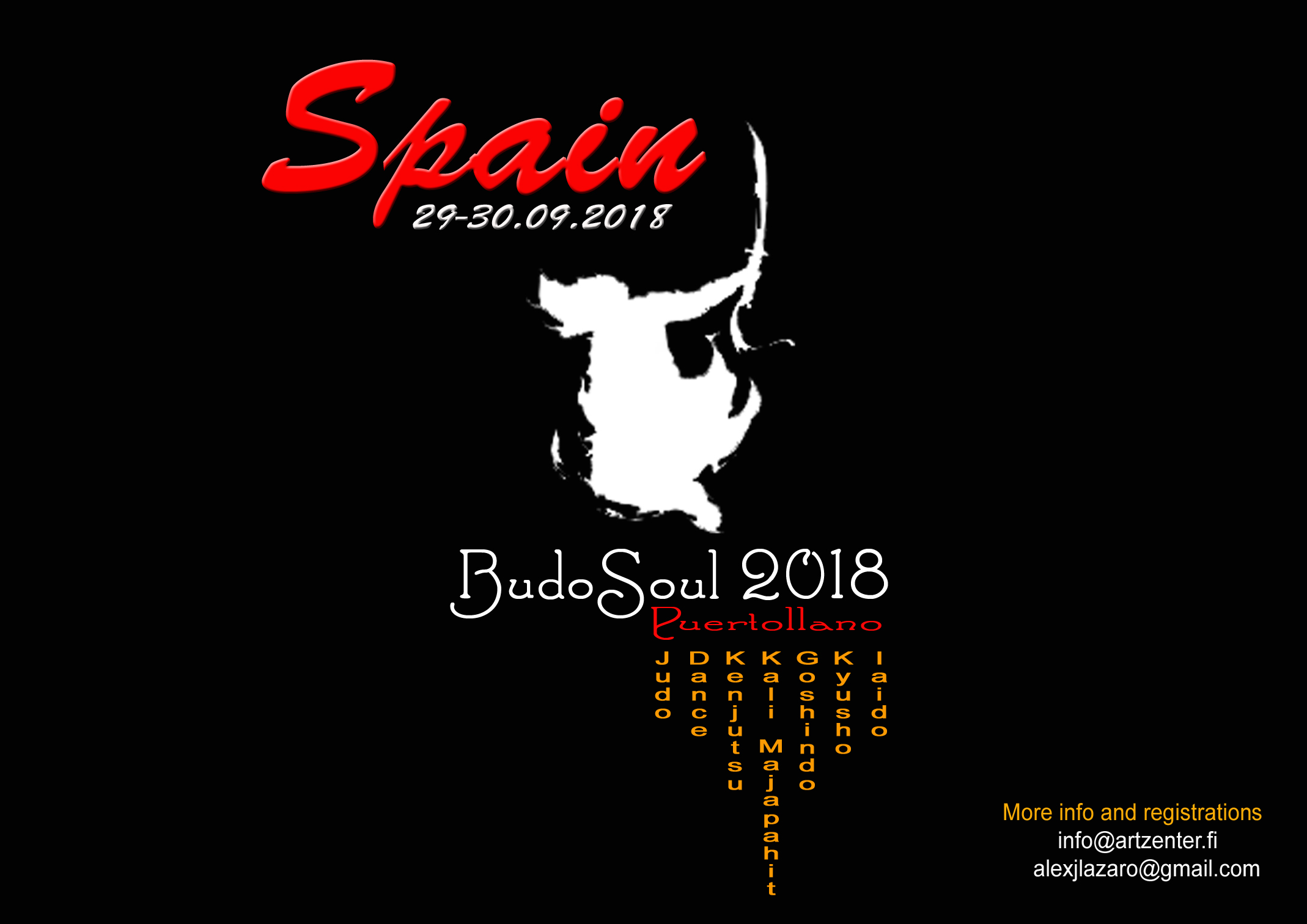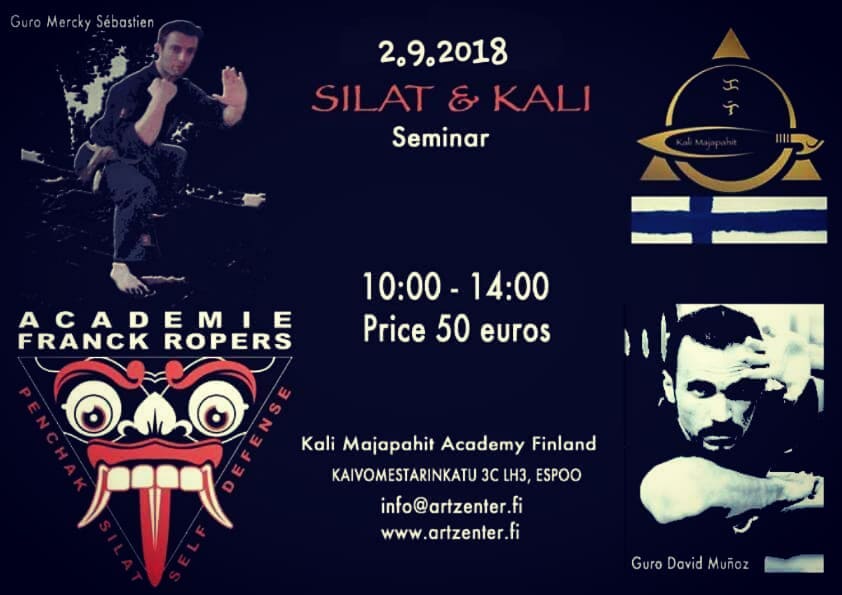 Welcome to our special SILAT & KALI Seminar to explore the similitudes and differences between these two effective Martial Arts from South-East Asian.
Special Guest from France, Guro Mercky Sébastien representing SILAT Franck Ropers Academy and Guro David Muñoz from Spain, representing Kali Majapahit Academy Espoo, will be the teachers at the Seminar.
Limited spots!
Book now at info@artzenter.fi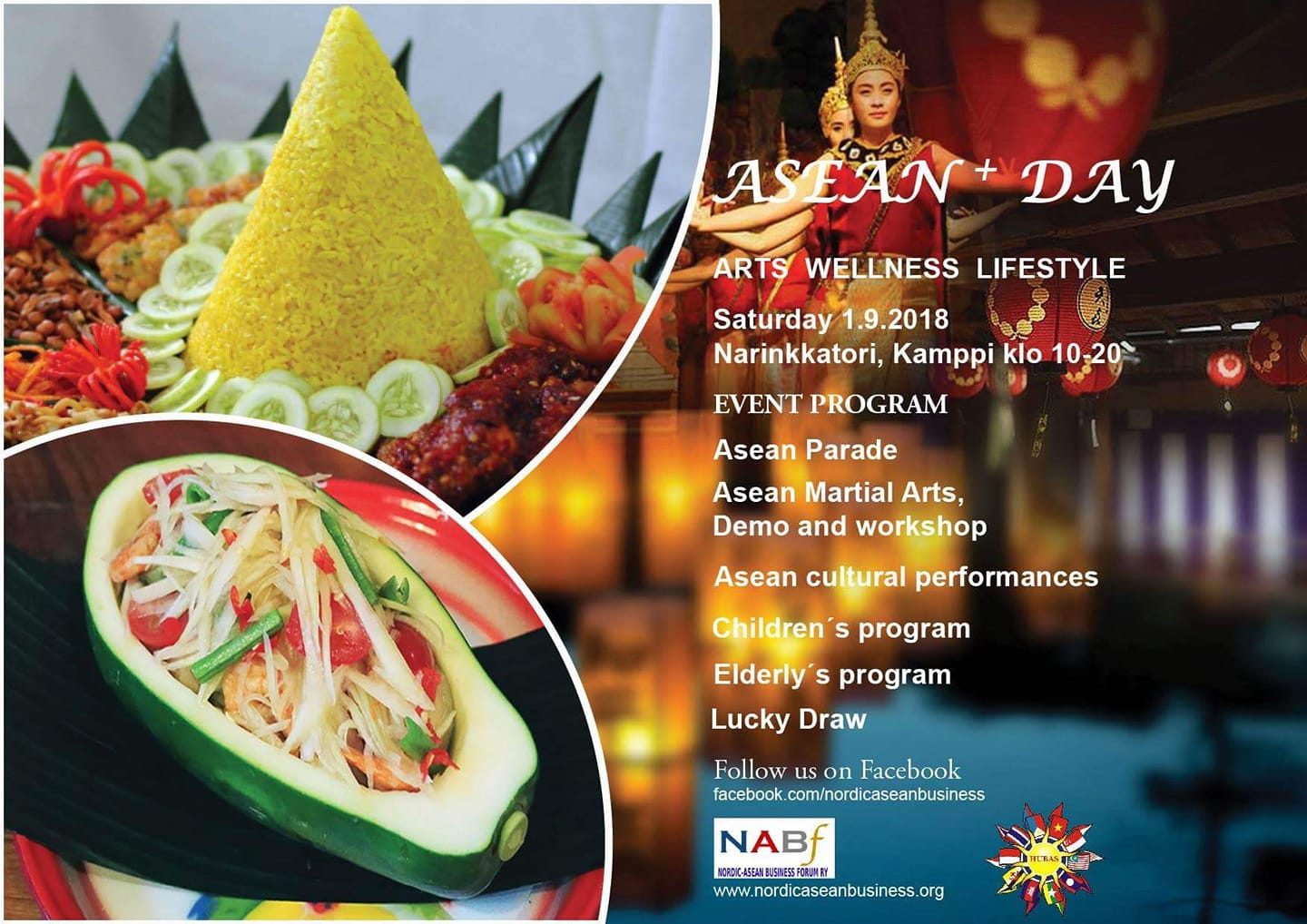 The biggest South East Asian outdoor event in Helsinki is here !!!
"Food bazar, cultural performance, martial arts workshops, handicraft, food sampling, face painting, henna tattoo, ASEAN parade, music, children programme, elderly programme…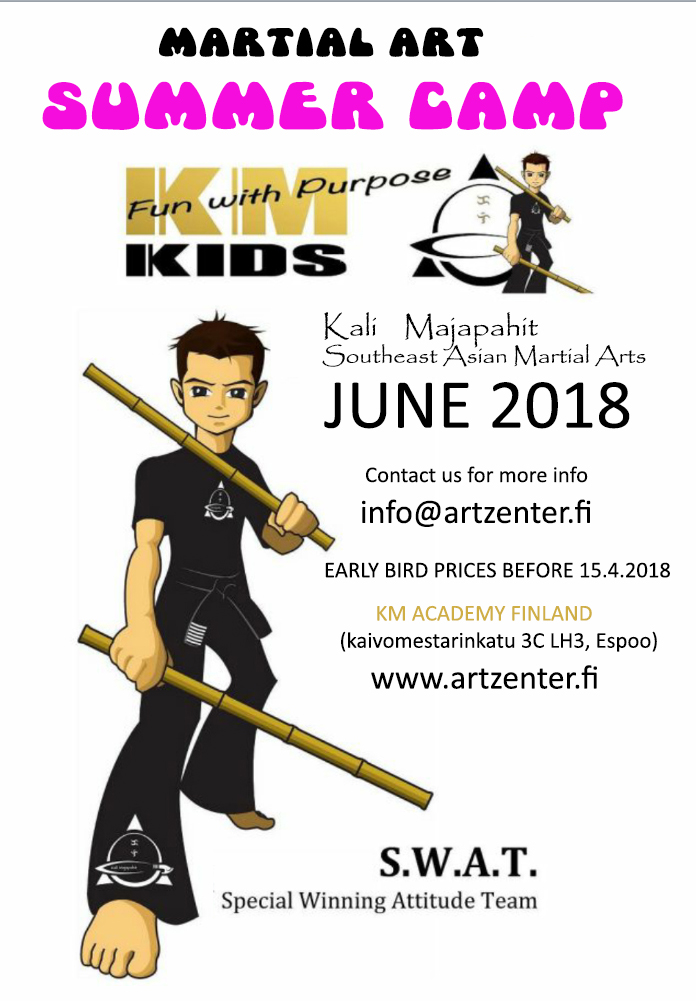 Welcome to do something original and fun on Sunday 18.3.2018 from 10.00 to 13.00. Discover the Filipino Martial Arts thru Kali Majapahit Seminar "BASICS OF KNIFE & KARAMBIT".
Learn basics movements to defend yourself against a knife attack with empty hands, disarms and counters knife – knife with the introduction of the use of Karambit, a curve knife unknown weapon in Europe but very popular in Southeast Asian Martial Arts.
First time ever the founder of Kali Majapahit, Guro FRED EVRARD, will visit KM Academy in Espoo (Finland) to impart an amazing martial art Seminar on 22.4.2018
Limited spots!
Book now at info@artzenter.fi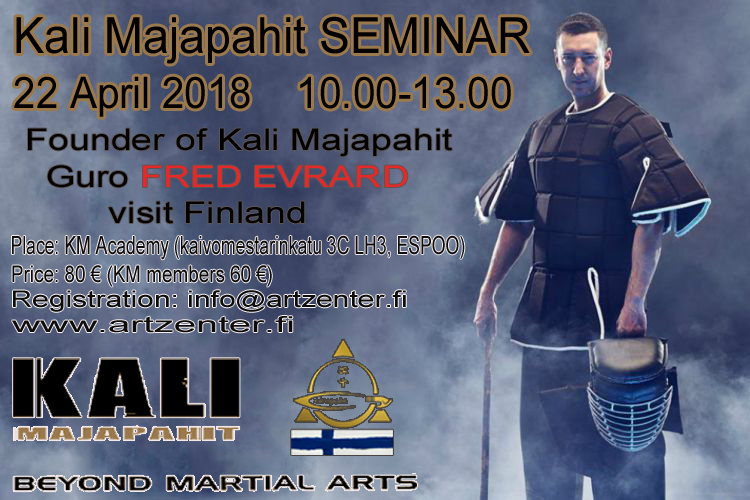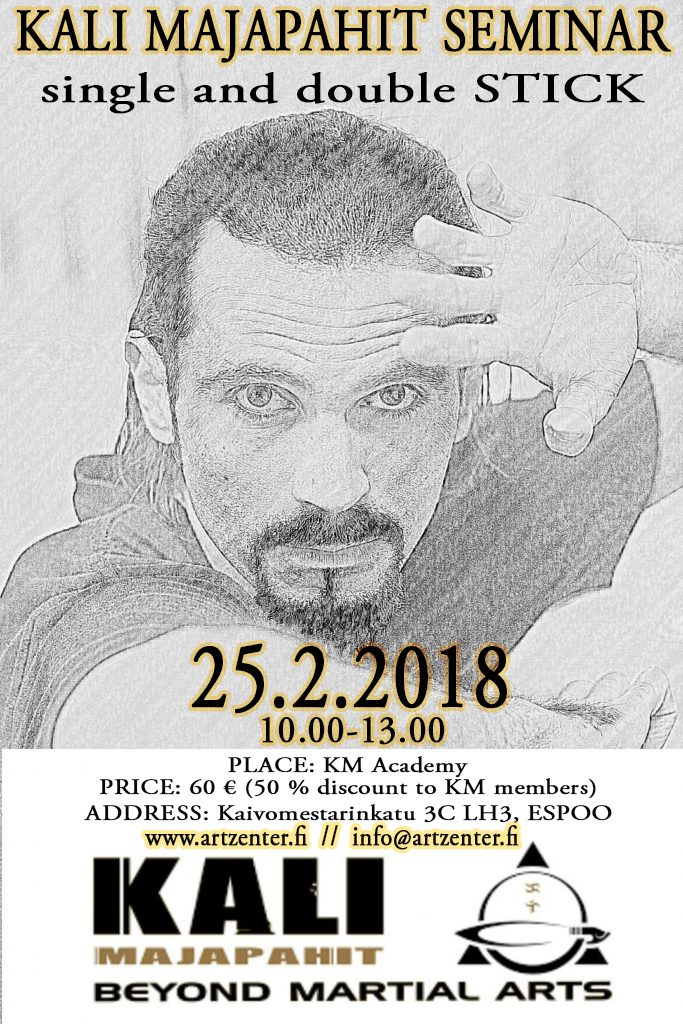 Welcome to our SPECIAL SEMINAR of Kali Majapahit in KM Academy on Sunday 25.2.2018 from 10.00 to 13.00.
If you are wondering yourself what is Kali Majapahit? KM is a very effective and complete Martial Art that combine different styles mainly from Southeast Asian in where the main influence is the Kali system from Philippines. So in this second Special Seminar of the year 2018 we will focus in SINGLE AND DOUBLE STICK CONCEPTS. We will work on basic defensive positions, evades & counters against certain attacks, drills and disarms and a brief introduction to stick-stick combat.
No need any background in Martial Arts so is valid for all levels. Only need to carry sportive clothes. Training is barefoot but it is possible to use socks or indoor shoes in case you prefer.
David Muñoz González will be the Head Instructor of the Seminar. Click the below link to know a bit more about him:
Price of the Seminar: 60 € (50 % discount to KM Academy members). 45 € early bird price for registrations until 15.2.2018
Payments in cash the Seminar day or by transfer thru email invoice.
Place: KM Academy (Kaivomestarinkatu 3C LH3, Espoon keskus)
Limited spots to 12 participants
More info and REGISTRATIONS: info@artzenter.fi
Best regards,
KM Academy team
www.artzenter.fi
info@artzenter.fi
Kaivomestarinkatu 3C LH3, Espoo