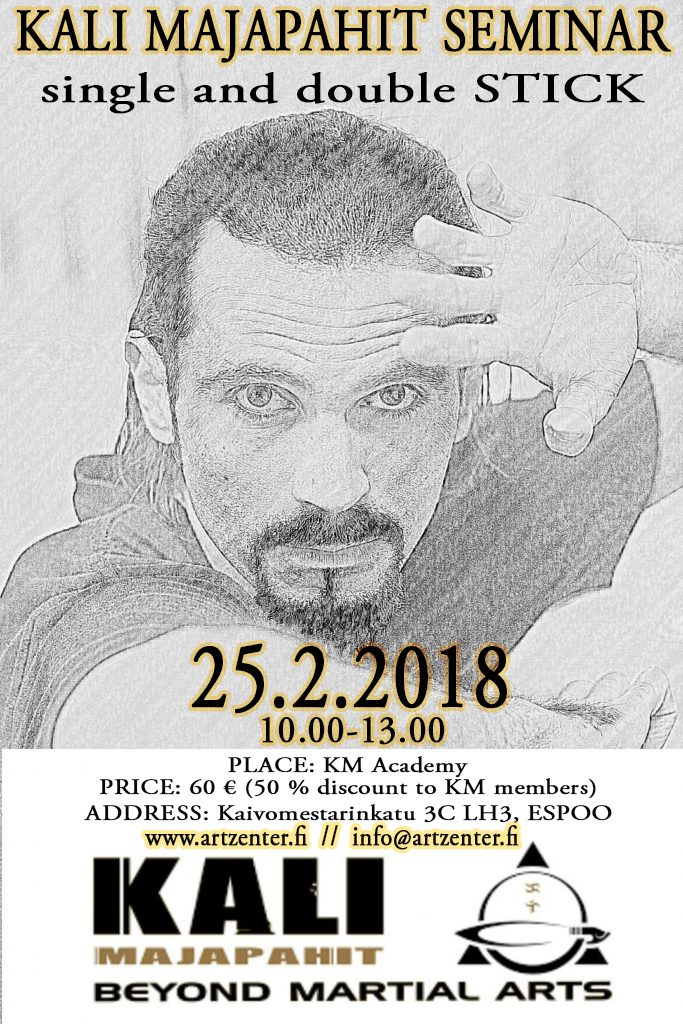 Welcome to our SPECIAL SEMINAR of Kali Majapahit in KM Academy on Sunday 25.2.2018 from 10.00 to 13.00.
If you are wondering yourself what is Kali Majapahit? KM is a very effective and complete Martial Art that combine different styles mainly from Southeast Asian in where the main influence is the Kali system from Philippines. So in this second Special Seminar of the year 2018 we will focus in SINGLE AND DOUBLE STICK CONCEPTS. We will work on basic defensive positions, evades & counters against certain attacks, drills and disarms and a brief introduction to stick-stick combat.
No need any background in Martial Arts so is valid for all levels. Only need to carry sportive clothes. Training is barefoot but it is possible to use socks or indoor shoes in case you prefer.
David Muñoz González will be the Head Instructor of the Seminar. Click the below link to know a bit more about him:
Price of the Seminar: 60 € (50 % discount to KM Academy members). 45 € early bird price for registrations until 15.2.2018
Payments in cash the Seminar day or by transfer thru email invoice.
Place: KM Academy (Kaivomestarinkatu 3C LH3, Espoon keskus)
Limited spots to 12 participants
More info and REGISTRATIONS: info@artzenter.fi
Best regards,
KM Academy team
www.artzenter.fi
info@artzenter.fi
Kaivomestarinkatu 3C LH3, Espoo